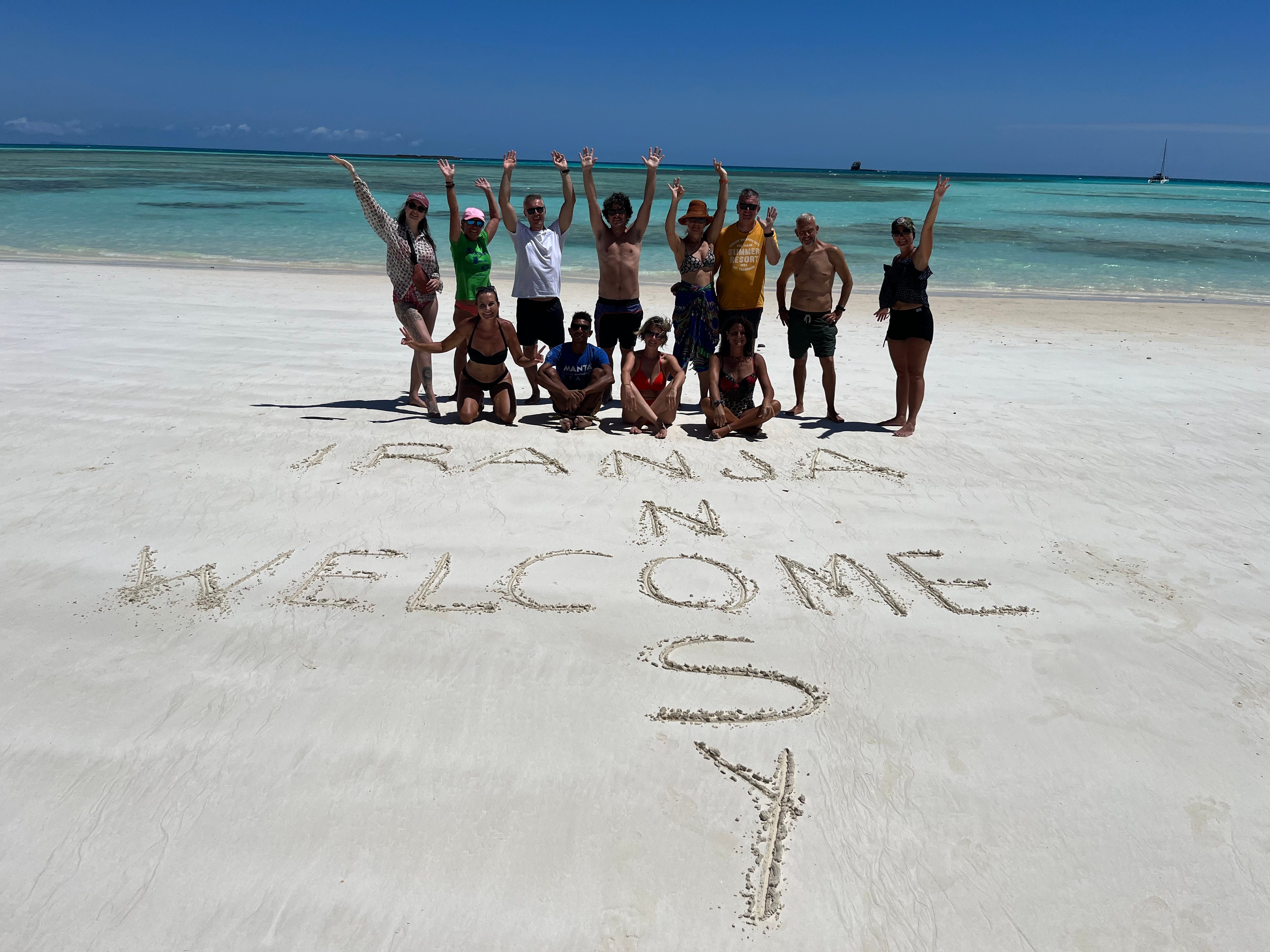 Group trip to Nosy Be
Madagascar
NiCe Dive & Trips in collaboration with Mario Passoni from the World Sustainability Foundation
At the end of September and the beginning of October, we embarked on a journey to Madagascar. We had a beautiful and adventurous stay with numerous exciting excursions and captivating underwater encounters. In this blog, you can get an impression of the travel destination Madagascar, especially Nosy Be.

During our trip, we supported the World Sustainability Foundation's project for lemur protection and integrated fascinating and informative biology sessions with our biologist, Mario Passoni.
Inhalte von Youtube werden aufgrund deiner aktuellen Cookie-Einstellungen nicht angezeigt. Klicke auf "Zustimmen & anzeigen", um zuzustimmen, dass die erforderlichen Daten an Youtube weitergeleitet werden, und den Inhalt anzusehen. Mehr dazu erfährst du in unserer Datenschutz. Du kannst deine Zustimmung jederzeit widerrufen. Gehe dazu einfach in deine eigenen Cookie-Einstellungen.
Zustimmen & anzeigen
In collaboration with the World Sustainability Foundation and biologist Mario Passoni, we curated a trip to Nosy Be that not only offered our guests sun, beach, and sea but also provided valuable insights into the marine life, flora, and fauna of Madagascar. Another significant aspect of the journey was our support through a donation to the project dedicated to preserving endangered lemurs in Madagascar.


Our excursions were organized in partnership with Manta Diving Nosy Be, who not only offered diving trips but also a variety of excursions to different accommodations around Nosy Be.


Part of our group departed from Vienna, while the other part originated from Milan, Italy. We flew with Ethiopian Airlines to Addis Ababa (Ethiopian), where we all gathered and continued our journey together to Nosy Be.


Upon arrival in Nosy Be, we landed at a small and easily navigable airport. Acquiring our visas was a straightforward and hassle-free process. After passing through immigration, our luggage awaited us at the conveyor belt. We were met by a driver from La Plage Lodge (right next to Le Zahir Lodge), who took us to our accommodation for the next few days. The journey to the lodge took about 45 minutes, with a brief stop at a mobile phone shop to acquire SIM cards.


Upon reaching La Plage Lodge, we received a warm welcome and a brief briefing. Our first impression was overwhelmingly positive. Madagascar, especially Nosy Be, is incredibly green and stunningly beautiful. Our small and charming resort is situated right by the sea. As a bonus, we were upgraded to suites with a magnificent view of the Indian Ocean. After a delicious dinner, we happily fell into bed, looking forward to the next day. Nosy Sakatia, here we come.
Today, we embarked on a full-day boat excursion with Manta Diving Nosy Be, heading to Nosy Sakatia, renowned for its green sea turtles. This roughly 6.5-kilometer-long island, measuring about two kilometers in width, lies just off the west coast of the main island of Nosy Be. We spent a considerable amount of time snorkeling in the sea, delighting in the presence of numerous green sea turtles, some of which were quite large. They seemed undisturbed by our presence, calmly grazing on the abundant seagrass.


Oh, and before I forget, on our way to Nosy Sakatia, we were graced by two groups of dolphins, shortly after leaving the shore. After our snorkeling session, we sailed to a secluded beach area, where we indulged in fresh fish, rice, salad, beans, and homemade bread with a breathtaking view. Once we'd finished our meal, Mario Passoni, our biologist from the World Sustainability Foundation, delivered his first lecture. Mario shared fascinating insights about the green sea turtles, which Nosy Sakatia is famous for. With this newfound knowledge, we set off once again by boat towards the seagrass beds, where we engaged in another extensive snorkeling session.


We encountered numerous green sea turtles once more and couldn't have been happier. Then, it was time to return to our lodge, where we freshened up and attended another informative lecture by Mario. Mario enlightened us about life in Madagascar, unique animals found only on this island (such as the singing lemurs), interesting facts about plants, and, of course, the marine life of Madagascar.


The humpback whale season ends in late September, marking the beginning of the whale shark season. This presents an opportunity to encounter both of these gentle giants during this time. We hope to have some special encounters during our stay. Our evening was spent on the beach, enjoying fine dining and good wine, before we fell asleep with smiles on our faces, lulled by the ocean breeze and the soothing sound of the waves.


The Green Sea Turtle or Chelonia Mydas
The green sea turtle did not get its name because of its color (it is not green), but due to the color of its fat, which is indeed green. It is the second-largest species of sea turtle in the world. The largest sea turtle is the leatherback turtle (Dermochelys coriacea), which can reach an incredible weight of one ton. The green sea turtle can reach a body weight of 250 kilograms in adulthood.


Distinguishing Between Males and Females
How can you tell whether it's a male or a female? This is quite simple; just take a look at the tail. The tail of the male is significantly longer and thicker than that of the female. This characteristic makes it easy to distinguish between the sexes.
Nosy Tanikely und Nosy Komba
Another thrilling day awaited us, as we set out to visit two islands: the tiny Nosy Tanikely and the larger Nosy Komba. Today, part of our group went diving for two dives, while the other group went snorkeling and visited the lighthouse on Nosy Tanikely.


Let's start with the diving. Madagascar, Nosy Be, and its surrounding islands are embraced by the Indian Ocean. Anyone who has ever dived here knows how diverse the underwater world is. We completed both dives at Nosy Tanikely and were captivated. Alongside sweetlips, schools of fusiliers, and numerous other colorful reef fish, we reveled in the beautiful environment adorned with soft and hard corals. A turtle greeted us right at the beginning, and shortly after, a whitetip shark relaxed in the sand, allowing us to capture its image.


The dive with Guiseppe, a guide from Manta Diving Nosy Be, was very relaxed, and everyone visibly enjoyed themselves. For the second dive, we explored the east side of Nosy Tanikely. Here, too, a turtle welcomed us as we descended, and about 15 minutes later, we were fortunate enough to have a guitar shark come into view. It, too, relaxed in the sand and let us admire it. The second dive site fascinated us with a multitude of gorgonians and enormous table corals. In summary, we can wholeheartedly recommend diving at Nosy Be.


The rest of the group indulged in extensive snorkeling, discovering two turtles, starfish, many parrotfish, sweetlips, and other marine creatures. Afterward, the snorkelers visited the lighthouse on the island. Along the way, they spotted lemurs in the treetops. Nosy Tanikely is also home to flying foxes, although they didn't make an appearance. At the lighthouse, the 360-degree view was simply overwhelming.


Our next stop was Nosy Komba. The boat ride took around 25 minutes, and once again, the initial impression was breathtaking. Each island is truly unique, with beaches straight out of a picture book. What's beautiful about all these islands is how close to nature they remain. This makes Madagascar truly something special. The little village was adorned with vibrant colors, the children were having fun, and we enjoyed a delightful lunch before embarking on a short hike. During our walk, luck was on our side as we spotted macaque lemurs in the trees. How adorable are they! Black, brown, and a baby that couldn't have been more than a few days old. Truly a beautiful experience. In the evening, we were treated to another delicious dinner, and tomorrow promises more excitement as we visit the Nosy Lokobe National Park via a canoe ride.
Today, we ventured into the Lokobe Nature Reserve, located directly on the island of Nosy Be, which offers excellent opportunities to encounter endemic animals and plants. Madagascar and its associated island, Nosy Be, separated from the African continental plate approximately 165 million years ago. Due to its isolation, Madagascar is home to an incredibly diverse range of endemic animals and plants—species found nowhere else in the world. Approximately 98% of the mammals, 80% of the plants, and 91% of the reptiles in Madagascar are endemic.


Information about the Lokobe Nature Reserve:
The island of Nosy Be has volcanic origins, but the volcanoes have been dormant for centuries. In 2011, the Lokobe National Park was officially declared a protected area. Most of the park remains untouched. There is a hiking trail that leads through the rainforest. We had a local guide, but it's also possible to explore the national park independently. However, having a guide is highly recommended, as they have trained eyes, and unique discoveries are possible. The Lokobe National Park covers only about 7.4 km² of the 325 km² island of Nosy Be, with a marine protected area of 1.22 km².


In this nature reserve, you can find not only lemurs but also various species of chameleons, including the world's smallest chameleon. This tiny creature is not easy to spot, but thanks to our guide, we were able to admire it.


At eight o'clock in the morning, we were picked up and taken by bus to a small harbor where canoes were waiting for us. Then it was time for some physical activity as we paddled the canoe across the sea to a small bay from where we started our hike in the rainforest. The Lokobe Nature Reserve is a must-visit during a stay on Nosy Be. We walked through the impressive forest, and it didn't take long for us to spot the first chameleon.


The plant life is equally impressive. Besides vanilla and coffee plants, the park also houses various palm species, such as the Dypsis Nossibensis and Dypsis Ampansindavae, both endemic to the island. The Ramy (Canarium Madagascariensis) and Anabovahatra (Uapaca – Ambanjesis) are also among the dominant species in the forest. We repeatedly spotted lemurs in the treetops, and in total, we saw three different lemur species. Lemurs are also endemic to Madagascar.


A brief spectacular overview of our sightings in the Lokobe Nature Reserve:
Brookesia minima – the world's smallest chameleon
Furcirfer paradalis – chameleon
Marcaque lemurs
Acrantrophis madagascariensies – Madagascar boa
After concluding our tour in the rainforest, it was time for a delicious lunch. Fresh fish, rice, vegetables, and other delicacies were served once again. With full bellies, we strolled through the small village, gave the children soap bubbles and stickers, before returning to the "harbor" in our canoe. It's worth noting that during our first canoe ride, it was low tide. Unlike in some other countries, in Madagascar, you can truly witness significant tidal variations. Back at our lodge, we relaxed on our spacious terrace, which we affectionately called the "Meeting Room," and enjoyed a glass of wine with a view of the sea.
As mentioned earlier, it's currently the season for humpback whales and whale sharks, marking the end of the humpback whale season and the beginning of the whale shark season. So, it was only natural for us to plan a day of whale watching. Today was the day. At nine o'clock, Manta Diving picked us up right in front of our lodge, and we headed out to the open sea. Everyone was excited, and we were curious about what awaited us. We spotted some schools of tuna near the surface, which can often be an indicator of whale sharks. However, on this day, it seemed that the humpback whales and whale sharks were in a different area. We thought luck wasn't on our side.


But then we received information from another boat that they had spotted a giant oceanic manta ray. So, off we went. It's worth mentioning that whale watching here in Nosy Be, Madagascar, is conducted very responsibly, unlike some other places in the world. Boat traffic is limited, and there were perhaps six other excursion boats in the vicinity, at most. Another plus point for Madagascar.


It didn't take long, and we spotted the giant oceanic manta (Mobula Birostris). WOW! But that wasn't all. The manta was so relaxed, and we were actually able to spend about 30 minutes in the water with it. Anyone who has seen a manta "dance" knows how impressive this spectacle is. She (we had the pleasure of swimming with a female manta) somersaulted and glided calmly and gently through the water. We are more than grateful for this unique encounter, especially considering that the giant oceanic manta is very rarely encountered in this area. What a day. Our conversation topic for the evening was set, and Mario Passoni provided us with many interesting facts about the giant oceanic manta and the reef manta, which is the smaller variety.


To wrap up the day, we went for a drink with the crew from Manta Diving Nosy Be in a lively area near our lodge. It was a cozy get-together with lovingly prepared cocktails.


Giant Oceanic Manta (Mobula Birostris):
The oceanic manta ray (Mobula birostris) is the largest ray species in the world. The largest individuals can reach up to seven meters in width. The giant oceanic manta is widespread in tropical and subtropical regions. Each individual manta has a unique belly pattern, which is used to collect data and observe the behaviors of these animals. Mantas have two large flaps near their mouth. When mantas open these flaps and "free" their mouths, they can intake a large amount of food at once. The wide-open mouth allows a lot of food to enter the throat and, subsequently, the gills.
Inhalte von Vimeo werden aufgrund deiner aktuellen Cookie-Einstellungen nicht angezeigt. Klicke auf "Zustimmen & anzeigen", um zuzustimmen, dass die erforderlichen Daten an Vimeo weitergeleitet werden, und den Inhalt anzusehen. Mehr dazu erfährst du in unserer Datenschutz. Du kannst deine Zustimmung jederzeit widerrufen. Gehe dazu einfach in deine eigenen Cookie-Einstellungen.
Zustimmen & anzeigen
The morning and early afternoon were free for us to enjoy at our leisure. We savored a leisurely breakfast, reviewed our photos and videos from the past days, and relaxed on the beach before heading to Mont Passot in the afternoon.


Mont Passot is the second-highest mountain on Nosy Be, standing at 329 meters, and it is named after the French Captain Pierre Passot. From the summit of the hill, you can enjoy a 360-degree panoramic view of Nosy Be, the Indian Ocean, and some of the island's twelve volcanic lakes. The most beautiful moment at Mont Passot is undoubtedly the sunset. As dusk falls, the sky is painted with various shades, from orange and pink to red and blue, creating a truly magnificent spectacle.


When we arrived at Mont Passot, the sun was already quite low, and about 30 minutes later, the sky began to transform with its vibrant colors. We weren't the only ones enjoying the view on that day, but the crowd was manageable, and we found a lovely spot to witness the sunset. On the way to Mont Passot, we also stopped by two lakes that are home to crocodiles, providing a picturesque backdrop.


Of course, we couldn't resist taking a few posed photos... :-)
Last but not least, we visited Nosy Iranja, a paradise with a name that translates to "The Island of Turtles." This island is primarily used by green sea turtles for nesting, and if you stay on the island overnight, you might be lucky enough to witness the miracle of new life being born. As we arrived, we could already spot the shadows of green sea turtles in the shallow waters.


A sandbank connects the two islands of Nosy Iranja. During low tide, you can walk across the white sandy beach from one island to the other. However, as the tide comes in, parts of the sandbank become submerged. Around 50 adults and their children inhabit Nosy Iranja. The small resort, equipped with cozy bungalows, invites you to stay on the island. Can you imagine a more beautiful way to start your day than waking up on this dreamy island and snorkeling with turtles in the crystal-clear waters before breakfast?


Nosy Iranja also boasts a lighthouse. A roughly 20-minute walk takes you to the "summit," where you can enjoy a magnificent view of the surroundings. We descended on the other side, visited another beach, and then walked back to our starting point, where a table was set with a delicious spread of culinary delights.


Afterward, we relaxed in the sun and the water before embarking on our journey back. We took a boat ride back to La Plage Lodge, which took about an hour and thirty minutes. And just when we thought we had collected enough beautiful memories for the day, another highlight awaited us. Mario spotted a spout in the water. What could that mean? Right! Humpback whales. A mother and her baby crossed our path. What a day. None of us expected to encounter humpback whales, so we were even happier afterward.


For those who want to bring back a unique souvenir from Madagascar, besides the fascinating memories, you can purchase jewelry on Nosy Iranja. Rings, necklaces, bracelets, and more, featuring a tamarin (star sapphire), are available on Nosy Iranja. The star sapphire is mined in Madagascar, and when exposed to sunlight, it reveals a "star" within the stone—a truly special piece of jewelry. When you make a purchase, you receive an authenticity certificate, and Francesca, the seller, assists her customers with a smile.
Madagascar, specifically Nosy Be, should definitely be on the bucket list of all nature enthusiasts and underwater aficionados. A combination of stays on the mainland, excursions to the nearby islands, and diving or snorkeling trips is highly recommended. Nosy Be and its surrounding islands like Nosy Sakatia, Nosy Iranja, and the Lokobe Nature Reserve are truly special and leave an unforgettable impression. The cuisine in Madagascar is also exceptional; the fish couldn't be fresher, and the side dishes are delicious.


One thing is for sure: We are already in the process of planning our next group trip for the year 2024 and are looking forward to our next visit to this beautiful and diverse country. The expected travel period is September/October 2024.


If you'd like to join us on our next journey, please reach out to us via email or phone and get yourself on the waiting list.


Until then, stay tuned!
Nina & the NiCe Dive & Trips Team